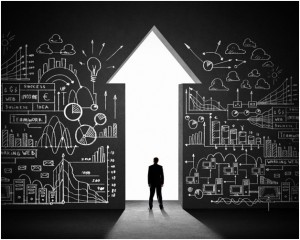 Globalization has transformed the world as we know it, including our business operations and workflow processes. Regardless of the size of the company – whether a large corporation looking for strategic action or small startup trying to hit the ground running – technology today offers us the means to leverage our strengths and alleviate our weaknesses; basically developing one heck of competitive edge!
Cloud infrastructure is the icing on that technological cake, helping businesses overcome numerous challenges. What are these challenges? We identify four most pertinent business challenges that impede business, and how cloud software is saving the day.
Challenge 1: Minimizing the Cost of Administration & IT
When you take your business to the cloud, you need not focus on taking care of intranet hardware. The cost savings are substantial for your business as you get rid of the servers, the on-premise hardware equipment that requires the human resources to man it, and expensive security tools to ensure its confidentiality. All of these costs and concerns are now shifted to your service providers, who manages the maintenance on behalf of your business, allowing you to do what you do best – focus on your business operations.
Disaster recovery is another concern that businesses need to concern themselves with. The risks of on-premise and singular location data storage dependence is eliminated altogether from the equation using FTP servers. FTP management function enables users to transfer files to your cloud based intranet or extranet faster than HTTP – and more securely stores data on an off-site location for less cost.
Challenge 2: Managing a Remote Workforce – The Best Collaboration Tools
Today, the success of your business may very well rely on your collaborative efforts. With a multi-departmental organization, or one that manages remote employees, coordination and communication may be one of the biggest challenges.
How do you effectively delegate tasks, so as to avoid inefficiencies and redundancies? How do you inform your employees of the latest policy or meeting schedule? Intranet software for small businesses helps businesses organize their operations and enhance productivity; for large businesses, it means data sharing, assigning tasks, follow-up of leads, mass scale collaboration with as many as 5,000 employees all over the world! With your intranet/extranet services, your employees have access to the information they need to drive your growth.
Challenge 3: Flexibility & Scalability
Innovation is not a business process; it is the only means to survive in this dynamic business environment. When you do not account for change, you're setting your business up for failure. Scaling "on premise" becomes a huge task, associated with extremely high costs. It, by no means, is accomplished by mere 'switch and click' tactics.
Cloud allows business to bank on the advantages of flexibility and scalability options like no other. It minimizes, if not completely eliminates, the barriers of changes, allowing you to grow and transfer your business activities as you will.
Challenge 4: Organization
Nothing can slow down or put a halt to your business like mismanagement or negligence as a result of unorganized work flow processes. When you develop a cloud-based process to better manage the work flow, it increases your response times and quality of service – all of which positively influences your bottom line performance and worker satisfaction.
For small and mid-sized businesses, this is crucial. Project management software's, document management, and scheduling software are just some of cloud applications that allow you to manage your tasks conveniently and efficiently – with your team, all, on the 'same-page'.
Considering the challenges that cloud helps business overcome, it begs the question: why is your business not moving to the cloud? Get the best document management services or project management and collaborative tools with Same-Page.com's eStudio.